CATEGORY
Visual
SOURCE
Squonk
DESCRIPTION
Displays data as a scatter plot using the D3 Javascript library
INPUTS
This cell accepts a dataset as its only input.
OUTPUTS
This cell currently has no outputs.
OPTIONS
| | |
| --- | --- |
| X axis field | The field to use for the X-axis values |
| Y axis field | The field to use for the Y-axis values |
| Color | The optional field to use for point coloring |
| Point size | The size of the point in the plot (ranging from smallest to largest) |
| Show axis labels | Allows to hide the axis labels to free up some space |
ADDITIONAL INFO
Scatter plot cell allows to visualise data and look for trends and correlations. The example below shows how Lipinski properties can be visualised.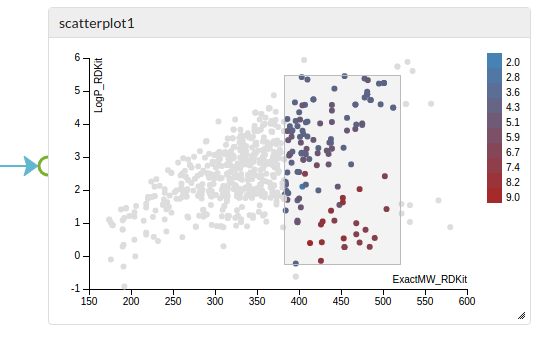 Known bugs and limitations
Configuration of the brushes is not saved and lost when the plot is re-displayed. We plan to resolve all these issues.
Planned enhancements
Allow the brushed data (the selection) to be propagated as a filter to downstream cells
Allow input data to be marked and/or filtered using the selection of another cell
Ability to configure axis details e.g. specify a log scale
Specify point size from a variable
Logarithmic axes